As 2015 comes to a close and 2016 begins I reflect on what the year was and like all farmers hope for a great year ahead. 2015 was an interesting weather wise and production wise.  We started out the year with a fair bit of snow. Our annual family snowmobiling trip to "Smoke'm Lodge" mid March was snowmobiling the first day and quadding the second. Warm temperatures melted the snow away rapidly, deteriating the trails overnight.   It appeared we were in for an early spring.
April brought wet snow and lots of it which made sure we were not going to be short of moisture, which was never really a concern given all the subsoil moisture we have. With all the snow and late in the season our first capital purchase was made in early April , a new Schulte snowblower.  They had extra stock and were clearing them out at a discount so we eagerly purchases one.  I figured this machine would be something the boys would use when they took over the farm. And if this weather keeps up this year that will be for sure as we have yet to use it…
Seeding started on May 4th surprising given the late snowfalls we had.  We managed to get our peas in before we got some rain that shut us down for a week.  Seeding resumed on the 12th and went fairly smoothly allowing us to wrap up in the last week of May which hasn't been the case for several years. Spraying was incredible this year. I can't remember the last time I sprayed every acre and didn't make a spray rut. The wind cooperated and I was done spraying in a very timely manner.  So timely that I was able to go to an Inland Terminal Association board meeting in Vancouver.  Part of the meeting was touring the docks and  vessel loading facilities which was an excellent learning experience.  And a pretty great supper cruising on a yacht on the harbour.
On the way home I stopped in Edmonton, rented a one way rental to Saskatoon and bought the family a boat.  It was great times on the water this summer with the boys trying and achieving wake boarding and of course lots of tubing.
Harvest started earlier than most years with dry peas coming off on Aug 13th.  Landon and I started and got off 80 acres before our first rain of the fall.  This gave Landon and I the chance to go get our second capital purchase of the year, a new set of Load King super B grain trailers.  We picked them up at the factory in Morden MB, so we spent 1 night in the truck which Landon loved the experience. We got back and harvest resumed on the peas but it was start and stopping with little rain showers shutting us down every second day. This seemed to be the theme for this year's harvest with never really getting more than a couple days in a row. During our harvest we made the 3rd and final capital purchase. A new 10×73 auger to unload the semis. Our old one was due to be replaced but with the prices at auction this summer a new one was the best deal.
Our harvest was great productionwise with the most harvested bushels we have ever had.  We hauled all our peas directly to market and a fair chunk of our canola putting our new trailers to good use.  With all the little rains meant I was washing my new trailers almost daily…
Harvest wrapped up on Oct 10th, Saturday of Thanksgiving.  We spent Sunday at mom's as we certainly had lots to be thankful for.  We worked some stubble because with all the late rains our ground was getting saturated again so we wanted to try and dry it out for next year and now clean up some ruts from the combines and swather, seems we just couldn't go a year without any.  I had surgery on Nov 13 so it was a rush to get everything done I wanted to before then as I would be out of commission for 6 weeks, well that's what the doctor told me, but my family knew that would not likely be the case.
December 17th I started booking grain to be hauled. I booked 8 loads (330mt) of wheat to Saskatoon and then get the call that 340mt of barley can be hauled in to local elevators as well.  In 6 days of hauling I logged 3413 km's (total for the year was 9,963) so it meant for some long days.  To round out the busy week I booked a load of canola as well.  Last load was to Saskatoon on Dec 23rd with a filthy truck and trailers after hauling through rain, snow and sleet.  I booked it in for a wash and between Christmas and new years the boys and I gave it a polish to bring back the bling…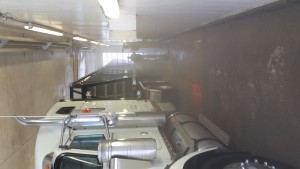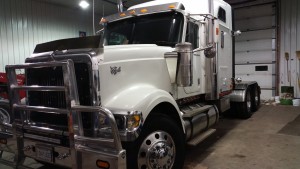 We look forward to what 2016 holds for us so stay tuned to find out.  Happly New Years from LDS Farms