I've spent the past 3 days on Prince Edward Island traveling around touring farms with some great new farming friends. Folks who dropped everything to take Greg Peterson (Peterson Farm Bros Youtube Sensations) and myself. Ok wait, maybe it was a tour for Greg and I got to tag along. Regardless, I've met great people and forged new friendships I didn't have a week ago.
Our tour started with a feedlot and grain farm tour where I learned its not just the farmers who enjoy their potatoes. Nope. Cattle get to indulge on the seconds or off grade potatoes. They told me nutritional value for the cattle are on/near par with barley.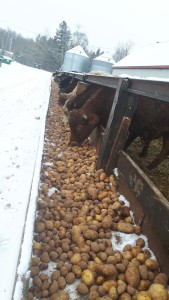 This farm is run by a spry 72 year old and his wife who show no signs of slowing down. Our tour guide Ian works for them and is still the 'new guy' with 10 years under his belt. Clearly this guy is doing something right, and you could see it in his smile as he pulled up in his Dodge 4×4 during our tour.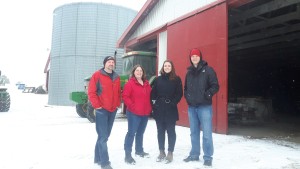 From there we headed to Visser and Sons Table and Seed Potato packing facility. Where Mr. Visser himself took the time to tour the facility with us, explaining the world of potato grading, customer specs and the mirage of unique packages that goes along with this business.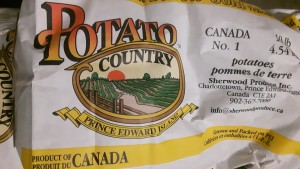 A quick stop at a chap I've met before at a Canadian Young Farmer Forum conference, Patrick Dunphy's grain/corn/soybean farm preceded fresh biscuits and Shepard's pie at Mark and Amanda Verleun, but more about that later. Patrick explained his farm's growth and future plans. And the guy looks amazing, having lost 50lbs giving up sugar in his diet!
Mark and Amanda Verleun of Dalmeny Farms work alongside his parents in the raising of soybeans, oats, hay, barley and winter wheat predominantly for their black Angus cow/calf herd, Holstein steers and chickens. Peter, Marks dad started the farm in 1979 and Mark's grandfather immigrated to Canada in the 1950s and their family has been farming ever since. After a tour of the farm, we were invited into their home where Amanda had prepared the BEST Shepard's pie ever, accompanied by warm biscuits and local PEI IPA brew enjoyed sitting around the pot belly stove in their living room warming our 'not used to the damp PEI cold' bones.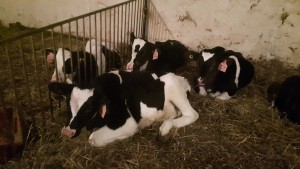 Our last stop of the tour was something quite different. A farm that decides their production for the year based on the day of the week Valentine's Day lands on and which Sunday in May is Mother's day. This was Vanco's Tulip Farm that grows approximately 5 million tulips each year for distribution throughout Eastern Canada and the United States. During our visit they were working on the greenhouse boiler, that's fueled by straw. Cool stuff!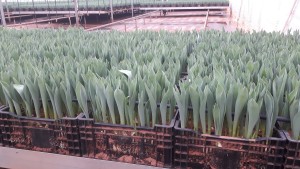 In each of these businesses, they opened their doors to us, stopped their busy day to tend to us, never took a cell phone call or text during the tour and were genuinely interested to share their business with us, while also seeking to learn about Greg's Kansas beef and crop farm and my grains and oilseed Saskatchewan farm. And as I reflect on the tour, I hope we're as courteous and genuinely open and interested in visitors to our farm as these PEI farmers were to us.
I'm writing this as I realize I'll need an extension to my already late checkout granted yesterday given the renowned Nor'Easter I've been fortunate enough to experience on this trip. "No problem," says the customer experience agent in his East coast accent. "How long would you like to stay?" Longer is the thought in my head with the warm PEI welcome I've received, but instead mutter "2 hours would be great."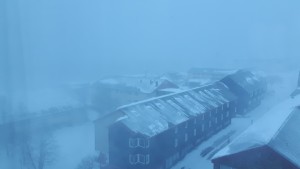 Thanks to Carey, Jeff, Ian, Amy, Pat, Liz, Mark and Amanda and the other young farmers for the memories!