This week ended up being a pretty nice week weatherwise. I kept putting things closer to the shop so that they would be accessible to the shop without getting muddy if the rain came, but it didn't, until Saturday morning. As luck would have it Lane and family headed to the farm to help prep equipment and get ready for spring. Rain started around 11 and did not let up until we got nearly an inch. It could have been a lot worse. Not far north lots of pictures of people with inches of wet heavy snow.
This gave us some time to get the sprayer ready, as it was in the shop and generally just have some discussions about our plan for #plant15 (twitter hastag).  The rain meant we now have water again in our shop, as we have a tank set up that collects rainwater and so we got the pressure system primed up and the hot water heater going so we can now come in for dinner with clean (warm) hands. The pump was a bit stiff so needed some TLC to get it running again. I guess we shouldn't leave it unused for 7 months.
We are getting closer to having everything ready. Most of the equipment is now ready and the liquid fertilizer has all been stirred up to get the crystals out of it that form with long term storage.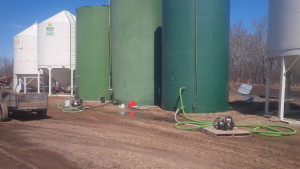 We had a casualty this week, it was one of the pumps decided to fail. It was a Briggs & Stratton engine that neither of us liked ever since we bought it and as we suspected it didn't last that long.
Another project that big boys do on rainy days is add "bling" to their trucks. Before Lane left for Regina we installed a new LED light bar on the semi. This will be very useful during those late night harvest runs and early morning hauls in the winter. Looking forward to trying it out.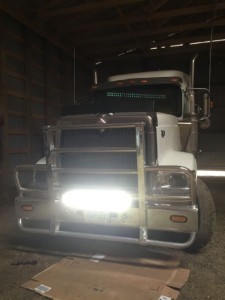 The forecast looks great for the week. With any luck hopefully be putting some seeds in the ground by next weekend with #plant15 underway.