This past week, Feb 1, 2016 has been a very interesting week with a lot of first time experiences and a lot of miles driving in northern Alberta. ¬†I flew into High Level which my mother tells me is only 750km from the NWT border. ¬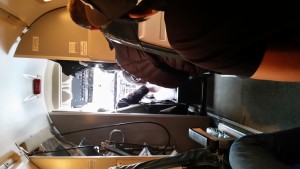 They had a fair bit of snow but the locals told me it was nothing compared to what they usually get. From there I drove an hr south east to La Crete which was a neat little Mennonite community. It was amazing how much farmland there is that far north but talking with the farmers they have a similar growing season as ours in central SK. ¬†The long daylight hours in June make a big difference for them. At the presentation there were hone baked cinnamon buns for snacks and home made pizza and Mennonite borscht ¬†(excellent), I got spoiled. Sucession is a big issue for them as they typically have large families and land is a bit of a rare commodity. ¬†The old saying "their not making anymore of it" when referring to farmland, they are in fact making more up there. It was not unusual to see qtr sections of rowed trees and the land is being cleared for farmland production. So of the locals said they estimate there are approx 750,000 ac that need to be broke and would be suitable for agriculture. ¬†This would help with the growing community as one individual told me last year there were 226 babies born in the local hospital and the town has a population of just over 600. ¬†Obviously a large rural population exist as well.¬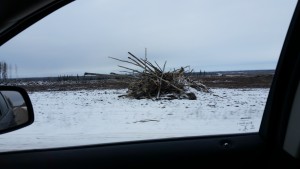 From LA Crete I headed south 3.5 hrs to arrive at Peace River, but not before stopping to see the local Dr to get some antibiotics for my head cold and ear infection. Not a fun condition to have when you are scheduled to speak at 7 events in a week and have several flights. On my drive I had to cross the Peace River which the ferry was not operational,obviously so it was an ice crossing. I got my opportunity to be an "ice road trucker" well sort of in my Dodge Journey. That day they had just raised the legal limit in the ice to carry total loads of 25mt from the previous 20mt. There was a semi sitting on the other side waiting to cross so I felt pretty safe but it was a bit unnerving when you see the ice chucks all pushed up alongside the road. Needless to say my mom wasn't impressed when I told her I did that but my boys thought it was cool.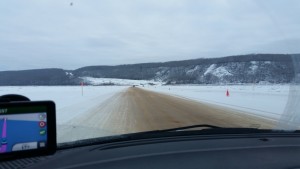 From Peace River I drove an hour to Fairview and presented on management skills to make your operation more profitable. The event was well received with lots of participants wanting to follow me to Dawson Creek the next day to hear me speak on succession.  Unfortunately the event was full already but a couple did manage to sneak in to a crowd of standing room only. The group was a lot of fun with good discussion and questions which meant unfortunately I was a bit rushed at the end to get through all the topics but the group didn't seem to mind lunch was 15 mins late.  A gentleman walked in with a Humboldt Broncos hat on and it turned out his grandson is playing there so he knew exactly where I was from. 
The drive over to Dawson Creek BC was incredible. ¬†I crossed the Peace again but this time open water meant I had to use the Dunvegan bridge which was massive in size given where I was geographically. ¬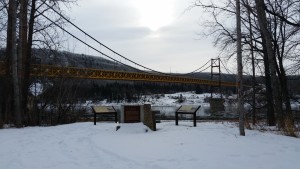 Greenhouses situated in the valley provide fresh produce to local residents up there and I found out later the family that owes them were at my presentation in Fairview. The vastness and openness up there was truly awe inspiring, makes me realize how someone that went there couldn't leave and ended up settling.  It is not without challenges but what an incredible lifestyle.   From Dawson I drove to Grande Prairie and dropped off my rental car and boarded a flight to Edmonton. So far I'd driven almost 900 km's in 3 days and did 3 presentation, and don't forget a Dr visit as well. 
From Edmonton I drove south an hour and half on highway 2 to Red Deer.  Highway 2 reminds me of the 401 in Ontario just a little smaller scale. It's like a race track out there and your best to just keep with the flow. On Thursday I presented to a dealership in Red Deer and then drove over to Camrose and did another dealership presentation explaining lease vs buying from a tax perspective. Friday had me speaking in Vermillion so I headed off to there that night so I was ready for the morning.   A brand new Pomeroy hotel had just opened so I stayed there  I think I was the first one to sleep in that bed.  A beautiful hotel for rural Alberta if your travels take you there.
Two presentations in Vermillion, one to a dealerships customers and another to their sales group and my long week of presentations was over. ¬†It was not a week I needed a cold but all in all it went very well and I appreciated the work I could accomplish in a week. I drove back to Edmonton to drop off the car and stay overnight to catch my plane home in the morning. With another 700km's on that vehicle I certainly got my share of driving this week but got to see a lot of country that I otherwise would never likely see. I had a great week meeting hundreds of great people and as the week draws to a close I wouldn't change a thing, I absolutely love what I do… just miss my family is all, but I will try and make up for that this up coming week.