Hard to believe that January is almost gone, even harder when we have had rain and plus temperatures melting what little snow that we had. Marie and I left home on the 5th of January for Ontario. I spoke in Cayuga Ontario on the 6th and on the 7th we boarded a plane and headed for Cuba. It was our first visit to Cuba and we enjoyed it a lot. We had great weather with sun every day except the day we were leaving, which made it easier to say good bye. I got kind of used to the lifestyle.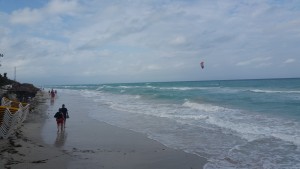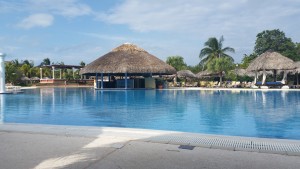 We returned just 5 short days later with Marie continuing on home while I stayed in Ontario for two more events. I came home 2 days later after nearly missing my flight due to an accident on highway 401. 3 days later I returned to the airport to fly back to Ontario for 3 days of presentation on succession. Once that was done I then continued my trek eastward where I flew to New Brunswick and presented at both the NB Ag Alliance AGM and the NB Young Farmers Forum, some great groups that made me feel very welcome. I stayed a couple extra days to allow me to visit Matt and Kayla Beal who had recently moved "back home" from Regina. Kayla works at FCC and Matt is now working on his families farm near Sackville NB. You might remember Matt was the mechanic who came to the farm and helped us get our combines ready for the harvest season, we will certainly miss him and hope we can convince him to come out for a visit…
Had a great view from my hotel in Fredericton over looking the St John River.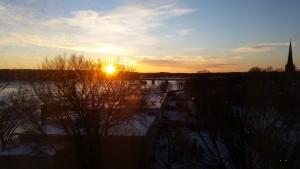 From Fredericton I was able to travel with my good friend Cedric MacLeod who was also speaking at the KAP Young Farmer Conference in Winnipeg. It was a great event talking about farmland with young producers that feel the same about the value of farmland across Canada, it won't be going down anytime soon. Eager to get home after 9 days away I left Winnipeg in a heavy snowstorm to arrive into Saskatoon where nearly 1/2 inch of rain had fallen the night before. Sun was out and plus temperatures meant my truck got pretty dirty, oh well I guess it is washable.
Gotta run as I leave in 2 days for Northern AB to speak on succession and buy vs leasing equipment in the Edmonton area. Travel is going to slow down next month, so more time to focus back on the farm work that has been patiently waiting for me to return.