Got started seeding again today. It has been just over a week since we finished the peas. Today is Soft white wheat used for ethanol primarily. Seeding up by Englefeld on one of Harold's fields. Me and a young Moose just minding our own business. As you can see i did have neighbors this morning, nice to have someone to watch even if they are little different shade of red. They were done their qtr in no time and pulled out leaving me with the moose.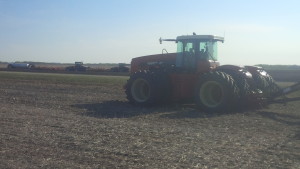 Noticed this huge whirlwind as well this morning, something I remember as a child but don't see them any more with all the direct seeding and no dust to blow. It didn't last long but it was big for awhile.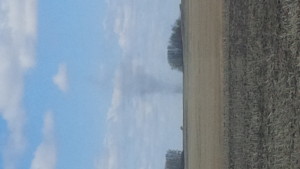 Lane has started spraying so things really kick into high gear for him, not that's he's been bored but now juggles harrowing, spraying, rock picking and keeping the seed and fertilizer to me. What we thought was going to be an early spring is turning out to be the new normal, which is mid may. We are slightly ahead of last year but not by much. Time to kick it into high gear!!!